Mosaic Recognizes MJM Electric, Inc.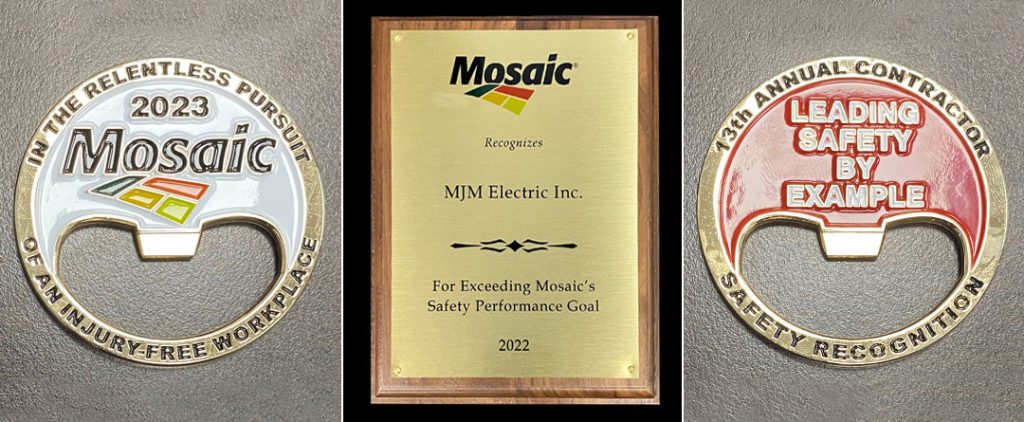 For over thirty (30) years MJM Electric has been one of the few preferred electrical contractors to perform work in the various Mosaic facilities in Florida. Every year Mosaic recognizes the contractors that they partner with for exceeding Mosaic's Safety Performance Goal. The past year was no different for MJM Electric.
Every year Mosaic invites the contractors that have met the criteria to be recognized along with their peers for "Outstanding Safety Performance". To show their appreciation, Mosaic recognizes the contractors during a luncheon with an award presentation ceremony. MJM Electric was one of only two electrical contractors to receive the invitation to the luncheon. Matt Woodward (MJM Project Manager) was chosen to represent MJM Electric and receive the award. During the ceremony Mr. Woodward was quoted as stating, "This is a very exciting time for MJM Electric and myself. I have never been a part of such a prestigious event. At MJM Electric safety is our priority so it is nice to be recognized for our safety culture."
This safety award recognition just reiterates the dedication and commitment that MJM Electric has to safety. MJM Electric pursues a safety first culture not only at Mosaic facilities but on every job site that we step foot on.